The Blue Horizon is a one bedroom one bath apartment with a private balcony off the living area and a small balcony off the bedroom. It has lovely views of the mountains, garden and the town. It has an open living plan. The kitchen is well equipped  with stove, coffee maker, blender and lots of dishes and bowls. The bed is queen and very comfortable with a memory foam topper.
Nightly rate:  45 – 65 per night with a  3 night minimum
Jan. – March 450 week 850 a month
April –  Dec. $250 week  $650 month
Pricing is adjusted for 2 week stays
(A month runs 4 weeks from Sat. to Sat.)  Check in dates are flexible.
Floor Plan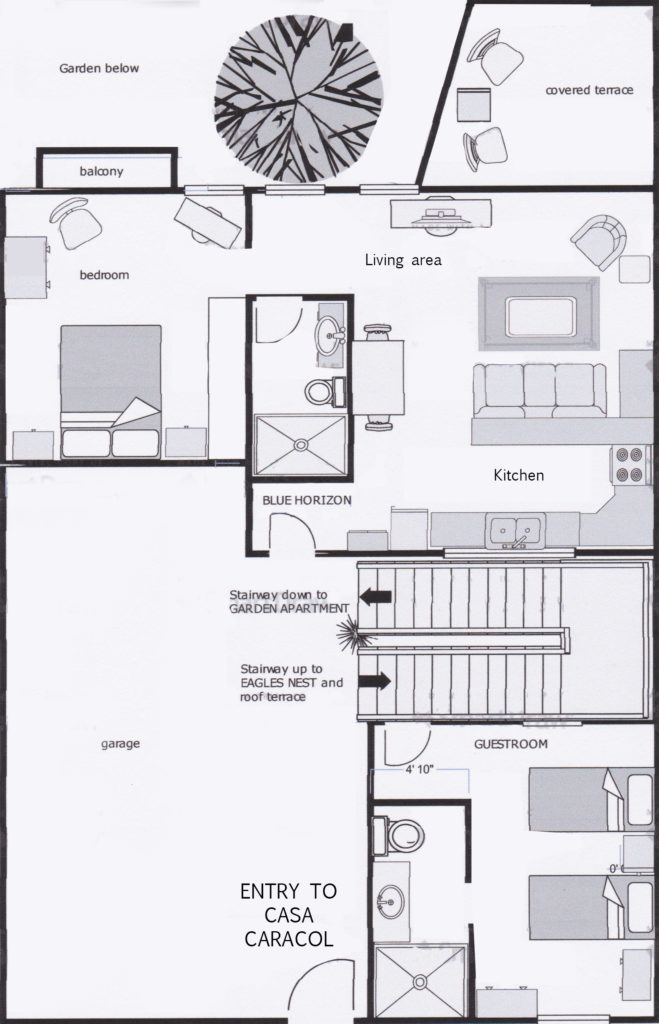 Review:
This is a charming little apartment in an interesting district of San Miguel. It is high up the side of a hill, so you will either gain some hiking fitness if you go to town on foot frequently, or you can depend on the ubiquitous (and inexpensive) taxi service. One advantage of the location is the panoramic view that competes with almost any place in the city. The neighborhood is authentic Mexican, with little tienditas close by, and the big supermarket (La Comer) is within walking distance for fit hikers. Lavanderías are also close. La Parroquia, the big cathedral at the center of town is 1.0 mile; expansive Benito Juarez Park about half that. We walked to both almost every day. Communication from the host was outstanding, both before and during our stay. The apartment was decorated very nicely in authentic Mexican style, and while not plush, was quite comfortable and included all we needed for our one-month stay. Clearly a lot of thought had gone into providing most everything a guest would need. The kitchen was well appointed, and there was even a substantial library of books, including many travel guidebooks – no need to buy your own (we left a new one behind as well). The apartment had a good exposure – plenty of light, but never harsh sun, and was cool and welcoming even on a hot day. Even the spiraling staircase up to a lovely rooftop terraza was decorated nicely – the owners are artists and it shows. Either from your private deck or from the roof, bird and butterfly sightings are common. We saw hummingbirds, woodpeckers, kingbirds, orioles, warblers, and even a small flock of euphonias, the latter the first record of the species for San Miguel. You might enjoy the morning and evening commute of egrets and ibis. Hot air balloons launch just about every morning, and their flights are easily viewable from the deck or the terrace.